FREQUENTLY ASKED QUESTIONS
FAQ
Surveying
What equipment is needed for a multibeam survey?
---
The major influence on the propagation of acoustic energy transmitted by an MBES transducer is the sound velocity of the water column. This changes throughout the day according to several factors, which if not corrected for by the MBES software will result in inaccurate raw data being collected. So, to carry out an effective MBES survey, several additional instruments are required. For the iHSS, we configure class-leading MBES, sensors and components to match the survey needs of our clients.
R2Sonic wideband multibeam echosounder (standard/compact or single/dual head)
R2Sonic Inertial Navigation System (I2NS)
AML Oceanographic surface sound velocity probe
AML Oceanographic shallow water sound velocity profiler
BeamworX survey & postprocessing software suite
Powerful survey & post processing workstation or notebook
Integrated mounting bracket for MBES transducer and IMU
Over the side pole mount for I2NS and MBES transducer (OTS)
---
How fast can a multibeam survey be done?
---
There are several aspects to this but one of the most important consideration for survey speed is how your multibeam echosounder transducer is mounted. Any kind of pole mounting can cause vibration which can then affect the data quality. However, a hull mounted transducer suffers from much less vibration so its possible under some circumstances to acquire data as fast as 20 knots.

A further consideration of survey speed is the along track coverage, which is a topic that our multibeam echosounder partner R2Sonic explains well here:
---
How do I ensure quality in a multibeam survey?
---

Simply put, the best approach for ensuring the data quality of today is to have an expert marine surveyor on board, but if you are interested in what can be controlled when using a multibeam echosounder, our technology partner R2Sonic has written a handy guide. Simplifying the acquisition of marine data is an area that Subsea Europe Services is currently working on however. Our goal is to make it easy for any organisation to carry out marine surveys regardless of in-house expertise. Today we achieve this by providing fully integrated, survey-ready systems (integrated Hydrographic Survey System) and the support of our own expert team during client surveys. In the coming years and decades, together with our partners we want to bring more automation and autonomy in order to simplify the data acquisition process.
---
---
Hydroacoustics
What is a multibeam echosounder (MBES)?
---
Multibeam echosounders are the common standard technology for acquiring the marine data needed to map the topology of the seafloor. MBES use the physics of sound in water to measure water depth. Unlike single beam echo sounders, MBES use a wide swath made up of multiple acoustic 'beams' or 'pulses' for optimal coverage, which makes hydrographic surveying faster and more efficient.
---
What is an MBES used for?
---
In addition to the acquisition of data for the creation of high-resolution seafloor maps, an MBES can also be used for geological and oceanographic research, offshore oil and gas exploration and seafloor cable routing, among many more applications including post-dredging and construction reports, as well as underwater object or UXO (Unexploded Ordinance) search.
---
How is an MBES used to acquire marine data?
---
An echosounder measures the round-trip time it takes for an acoustic pulse to bounce off an object on the seafloor in order to record a 'depth sounding'. These soundings are then combined with corrective data logged from other instruments and used to create an accurate chart of the seafloor topology for navigation or underwater construction purposes.
There are two primary types of echosounder; a single beam echosounder fires one pulse at a time in one direction (usually directly below the boat), while a multibeam echosounder generates multiple pulses at a wider angle, usually to port or starboard. While this results in better coverage for improved raw data, it makes MBES surveys more complicated to plan and harder to carry out.
The complexity of the MBES survey workflow requires an expert marine surveyor to be on board and a highly experienced helmsman to keep the survey vessel on the planned lines. Subsea Europe Services GmbH is working on ways to simplify the process however, using technology integration to empower more automated marine survey operations.
---
How do I ensure that the transducer head is operating optimally?
---

It's no secret that multibeam systems are costly, so if you are looking to buy your own, knowing how to maintain it is a must. Our multibeam echosounder partner R2Sonic has a great guide on looking after transducers. Of course, if you prefer to rent or subscribe for access to the latest technology with Subsea Europe Services, you can be confident that all equipment delivered has been maintained thoroughly and fully tested before it leaves the warehouse.
---
How do I know which multibeam system I need?
---
You don't need to know this directly, but you do need to be able to communicate what you need to achieve from a survey. With this information, the Subsea Europe Services team can spec the exact product or integrated ready-to-survey-system for you. We'll take into account everything from your budget and vessel configuration, to water depth and required operating frequencies in order to ensure the technology we deliver is the ideal fit to acquire the data you need.

Find out more about preparing to get a multibeam echosounder at our technology partner R2Sonic's website.
---
---
Cables & connectors
How can I stop my deck cables getting so tangled up all the time?
---
A wise man once said, "it is easier for a camel to go through the eye of a needle, than for a really twisted deck cable to go through a cable duct."
Watch this short video to find out how to manage your cables with ease.
---
---
Position reference
---
Data
---
Business
Does Subsea Europe Services manufacture MBES systems?
---
No. Subsea Europe Services is an integrator of hydroacoustic technology, including MBES. We take the very best, field-proven MBES models from manufacturer R2Sonic and unify them in a single integrated package, which includes everything needed to acquire the highest quality marine data. We call it the integrated Hydrographic Survey System, or iHSS for short.
---
Why should I use an iHSS rather than traditional systems and suppliers?
---
As the name suggests, the iHSS is delivered to you as a complete survey system, so you only have to work with one supplier – Subsea Europe Services. The benefits of our integration work can be seen at each phase of the hydrographic survey workflow:
Planning: Our hydroacoustic technology experts help to select the correct configuration for your specific needs.
Logistics: We deliver the preconfigured system and can have it with you within 24-48 hours if your requirement is urgent.
Installation: The iHSS comes with everything you need and is easy to install and calibrate. Our experts can help over the phone or be there to assist on the day.
Operation: We ensure that all hardware and software work in harmony making operation simpler and possible even for non-experts.
Postprocessing: With a choice of three R2Sonic echosounders, the iHSS will always provide the best raw data as a foundation for high quality end products.
---
What does 'We make it possible for every organisation to collect and evaluate marine data professionally'?
---
The integration of all components needed to conduct MBES-based hydrographic surveys simplifies the marine data acquisition workflow. This can open the door to organisations without permanent, in-house expertise to collect their own marine data using owned vessels or vessels of opportunity.
Trained experts are still required to operate the iHSS safely and effectively, and the Subsea Europe Services support team is ready to join users with little or no experience during installation and throughout a survey campaign, helping our clients to maximise performance. Our vision, however, is to make MBES operation simple and automated enough that familiarisation training only will be enough to get the best results from a hydrographic survey campaign using the iHSS.
---
What are the advantages of renting over purchasing?
---
The MBES ownership model is suited to those users that are confident of the need for continuous usage over several years. It's no secret that purchasing MBES technology is a significant investment but for many MBES owners, this investment can be severely under-utilised. The rental model is much better suited in the case of users with no fixed utilisation rates. And while availability in the rental market can be challenging, Subsea Europe Services has looked closely at stocking and logistics to ensure that we can meet client requests within 1-2 days of first contact.
---
What do you mean by a subscription model?
---
We introduced the subscription model as it provides more predictable costs for regular users that may not quite meet the usage levels that make purchasing the best option. Essentially, with an iHSS subscription, you pay for a certain amount of time to use the system on an annual basis and then tell us when you want to use it throughout the year in advance. We will then make sure that an iHSS is delivered and ready to go, exactly when and where you need it. Once the job is done, just send the iHSS back to us until your next scheduled usage window. With multiple systems available, we are flexible and can accommodate late requests where possible, giving subscribers similar flexibility to single-use rental clients.
---
What is the difference between a system and a solution?
---
A system is essentially the result of integration between sensors, equipment and user interfaces. This becomes a solution when the survey platform is also part of the delivery.
At SES we provide access to a wealth of high quality sensors such as R2Sonic Multibeam Echo Sounders and AML sound velocity instruments. We combine these sensors to create survey ready packages such as the Integrated Hydrographic Survey System (iHSS).
Following our partnership with Unmanned Surface Vessel (USV) manufacturer Martac Systems and our relationship with several Remotely Operated Vehicle (ROV) suppliers, Subsea Europe Services is now also providing complete turnkey solutions.
This is the combination of integrated survey technology and the actual survey platform as a single delivery, with expertise and support also included as part of the solution.
We call our Sensors, Systems and Solutions approach, The Power of Three...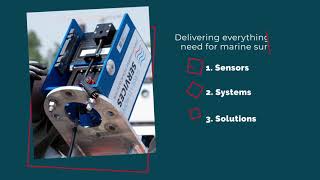 ---
---